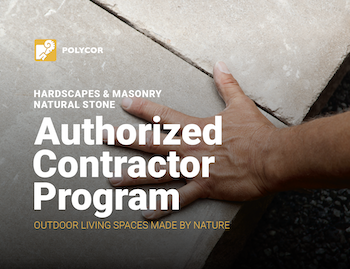 WE HAVE YOUR BACK
Let Us Reward You
Polycor Authorized Contractors are a key partner to Polycor and its dealers. In the natural stone business, the local contractors who educate and help their customers to choose our high-quality products are a critical component of our sales program, and one that should be rewarded!
This program is in place to:
Increase your sales
Improve your customer satisfaction
Gain exposure to new customers


Polycor and its historic quarries have built a reputation as America and Canada's building stone for the most iconic projects. Those projects were installed by the greatest craftsmen in the world, and Polycor would like to grow that story with Hardscapes and Masonry contractors.
The Polycor Authorized Contractor Program will develop the tools and resources to expand your business, increase your profits, differentiate your company and help you define yourself as a Polycor Master Craftsman. Let's set the stage in natural stone...together!