Download our Eclad brochure.
A brand-new innovation powered by Polycor and Eclad.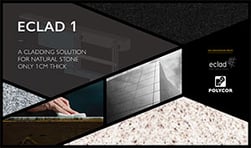 Eclad Brochure
See how Polycor's 1 cm, ultra-thin, carbon fiber backed slabs integrate with Eclad cladding systems.
In this brochure you will find:
Technical details about this unique cladding solution,
How this cladding system can help save time and labor
Polycor stones that are adapted to this cladding system
Fill out the form to access the Eclad Brochure.